Dec
10
Sun
Miners Foundry Presents: Nevada City Winter Craft Fair @ Miners Foundry Cultural Center
Dec 10 @ 10:00 am – 6:00 pm
Nevada City Winter Craft Fair
December 10 @ 10:00 am – 6:00 pm
– $3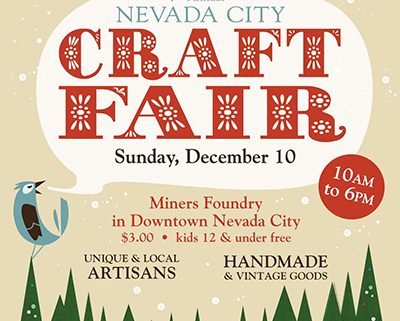 Join us on Sunday, December 10th for the 7th Annual Nevada City Winter Craft Fair! We have over 60 of the top local Etsy crafters, designers, and artisans featuring handmade home decor, apparel, bath products, stationery, art, food, drinks and more.
Nevada City Craft Fair is a juried exhibition of makers curated in the aesthetics of the modern rustic lifestyle that NCCF embodies. Hip, sustainable, yet innovative, represents the best of the region in our bi-annual craft fair held at the historic Miners Foundry in downtown Nevada City.
The first Nevada City Craft Festival was produced in the summer of 2010 by a group of local young crafters, artists and social do-gooders who were inspired by the independent entrepreneurship and creative talents in their community as well as the success of the Renegade Craft Fairs across the US and Europe. The event continues to grow and to date has introduced over 10,000 attendees to more than 600 local and regional artists, designers and crafters.
Nevada City Craft Fair is committed to presenting the freshest voices of the local hand-made movement, under one roof. Come celebrate with us!
39th Annual Victorian Christmas @ Downtown Nevada City
Dec 10 @ 1:30 pm – 6:00 pm
Nevada City Victorian Christmas 2017
Sundays – Dec 3, 10 & 17 from 1:30 – 6pm
Wednesdays – Dec 13 & 20 from 5 – 9pm
The enticing aromas of roasted chestnuts and hearty holiday foods fill the air, along with cries of street vendors hawking their wares and lamp-lit streets filled to overflowing with authentic Christmas treasures — hand-crafted candy, jewelry, pottery, perfume, dolls, and over 100 different items in all. It's the one & only Victorian Christmas-full of new shows, sights, sounds and attractions.
Welcome the holiday season in style in historic Nevada City, a quaint, Gold Rush town nestled in the foothills of the snow-capped Sierra where each year the town's picturesque downtown transforms into a genuine Christmas card come to life. It's a magical setting of hilly streets outlined with twinkling white lights and authentic gas lamps, wandering minstrels and carolers dressed in Victorian attire, and a myriad of visitors sharing holiday cheer and good tidings.
This annual, family tradition takes place 2 Wednesday evenings and 3 Sunday afternoons in December and features holiday activities for all ages:  carriage rides, live entertainment, savory yuletide treats and libations, and of course, Father Christmas!
There is oh so much to see, hear, feast upon and experience at Victorian Christmas. Whether you've been naughty or nice…we look forward to welcoming the best of the holiday Season with you and yours!
Entertainment at Victorian Christmas
At locations throughout downtown, Victorian singers, bagpipers, brass bands and strolling minstrels provide warm Christmas music. Nevada City's famous Walking Christmas Tree and a living nativity scene can be found, along with hot roasted chestnuts and horse drawn carriage rides.
December 14th Entertainment Schedule
Why not add to the party by dressing as a Victorian?
We're encouraging people to dress up and add to the Victorian nature of the event. You'll find costume tips and ideas costume tips and ideas here.
Victorian Christmas Parking
General Information
Parking can be difficult in Nevada City during Victorian Christmas. Broad and Commercial Streets are closed to through traffic. The Police Dept have asked us to let you know that parking is not allowed on "On Ramps" or "Off Ramps" of Hwys 49 and 20. Cars parked on the ramps will be ticketed and may be towed.
Take the Shuttle
Drop your group off in town and then park your car and catch the Shuttle from the Nevada County Government Center, 950 Maidu Avenue, Nevada City CA 95959.
Shuttle costs $5 for adults and children 15 and over. Children under 15 ride free.
Return journeys are free for all.
Shuttle hours are 4:30-9:30 pm Wednesdays and noon-6:30pm Sundays.
Tour Buses
The Broad Street Overpass is for bus loading and unloading only.  No bus parking on the overpass!!
Bus parking available at the Nevada County Government Center. Bus drivers will be allowed to ride local shuttle from the Government Center into town for FREE if they desire.
For information, contact the Nevada City Chamber of Commerce at (530) 265-2692 or toll-free (800) 655-NJOY.  Victorian Christmas is a Rain or Shine event.
MIM Presents: HAPPY HOLIDAYS @ Amaral Center at NEVADA COUNTY FAIRGROUNDS
Dec 10 @ 2:00 pm – 4:00 pm
HAPPY HOLIDAYS
Saturday, December 9, 2017 at 7:30pm
Sunday, December 10, 2017 at 2:00pm
Amaral Center at the Fairgrounds
Ryan Murray, conductor
Music in the Mountains Festival Chorus & Orchestra
Share the Sierra Foothills' favorite holiday musical tradition with family and friends, and thrill to the spectacle of the season. A sparkling celebration with carols, classics and more featuring the Music in the Mountains Chorus and Holiday Orchestra and a very special guest. (Yes, Virginia, there will be a Santa Claus!)
Click HERE for us to call you to order tickets
Nevada County Dance Collective Presents Prime Movers: Dances of Source and Center @ Off Center Stage
Dec 10 @ 2:00 pm – 4:00 pm
Nevada County Dance Collective Presents
Prime Movers: Dances of Source and Center
Saturday, December 9, 2:00pm, 7:00pm
Doors open at 1:30pm, 6:30pm
Sunday, December 10, 2:00pm
Doors open at 1:30pm
Off Center Stage
$11 Advanced
$15 At the door
(Ticket price includes $2 facility fee. Does not include applicable fee for online purchases.)
A Prime Mover is a source of energy, a transfer station, a powerful force of exchange, known and unknown, imagined or engrained and will be danced and brought to life with NCDC dancers and artists. This cast continues to evolve and highlight modern dance, contemporary ballet, acro yoga artists, voice, poetry and more. Mark your calendars and stay tuned. We will sell out, so buying tickets ahead of time will be necessary, and the links are coming soon!